This Just In: Color wheel proves that men are from "the Scarlet Planet".
Goblin green, skin, crap, mucus, piss yellow, blood, baby vomit.
What on earth am I talking about, you ask? Am I getting ready for Halloween make-up and costume accessories?
Nope.
Just doing a little research online about color, more specifically, the way men view and name color vs. women. You know what I'm talking about…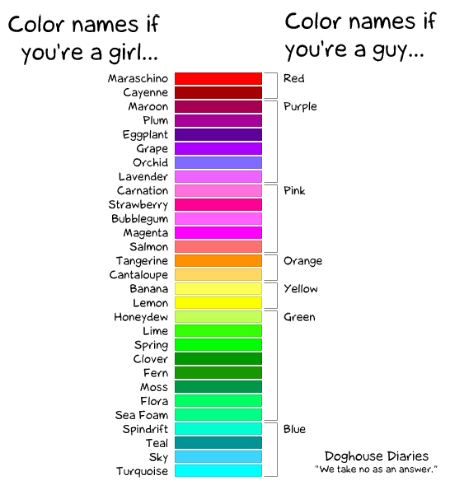 I recently came across this super cool info-graphic and data visualization created by Stephen Von Worley which displays the 2,000 most common responses from a name color survey conducted by webcomic and blogger xkcd.
The survey asked participants to look at a given color and type the words or phrase they would use to describe it.  By the time the results were in, participants had ID'd over 5 million colors and it probably comes as no surprise to you, there was an overwhelming difference between genders.
You can find more details and hilarious musings on the survey here, but, in my opinion, the moral of the story is this… if you are trying to influence the decision of the opposite sex and color is involved, you may want to tailor the way you present the information.
For example:
Don't say:
"Oh honey, I just love this Barbie Pink sofa for our new gameroom! It's so Miami chic!"
Do say:
Instead try replacing Barbie Pink with something like "Mangenta", "Formula One Fushcia" or even just "Reddish Purple."
Don't Say:
Men, you might want to veer away from a comment like "Hey babe, I say we go ahead and order that baby crap brown sofa for my man cave — you cool with that?"
Do Say:
Try to speak her language and use color names which will appeal to her feminine side such as "Rust Brown", "Mahogany" or "Burnt Sienna".
Do you have a funny color story relating to the way the opposite sex views colors? Share it right here in the comments section of our blog. Come on… make us laugh. I dare you.